Dean - Maj Gen (Dr) Vibha Dutta, SM Director and CEO, AIIMS Nagpur
All India Institute of Medical Sciences, Nagpur was established in 2018 on an area of 150 acres. AIIMS Nagpur offers MBBS full-time degree program as well as postgraduate studies in a variety of subjects. For admission to AIIMS, Nagpur student has to give NEET examination and then admission process will be conducted by Medical Council Committee.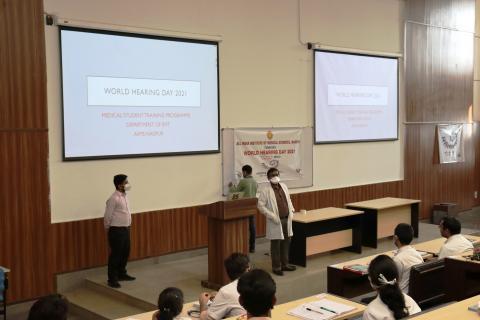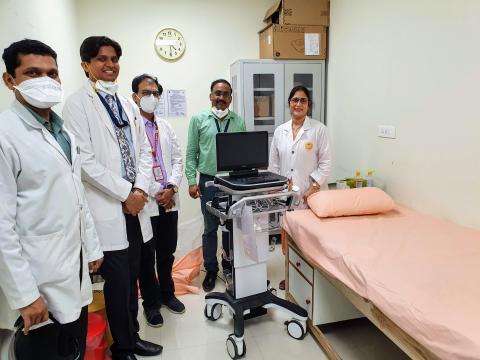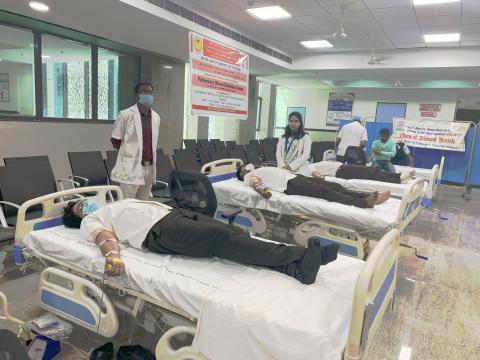 Facilities
24 X 7 Library (both central and e-library)
Museums including one-stop comprehensive learning "state of art" museum by Department of Forensic Medicine
Hostel accommodation and security
Sports area (both indoor and outdoor)
Residential quarters for staff
Admissions Process
MBBS
Admission to AIIMS is done on the basis of All India Quota through MCC
Visit www.mcc.nic.in website for Admission
To know more about All India Quota, Click Here
B.Sc. Nursing, B.Sc. Lab. Technology, B.Sc. Emergency Medicine Technician
Admission to AIIMS is done on the basis of PAAR Registration
Visit https://ugcourses.aiimsexams.ac.in/ for Registration
To know more about PAAR, Click Here
How To Reach
Nearest Bus Stop
AIIMS Hospital (750 m)
Nearest Railway Station
Khapri (3.8 km)
Nearest Airport
Nagpur (13.3 km)
Course Details
MBBS
| | |
| --- | --- |
| Course | Duration |
| MBBS | 4 ½ years + 1-year internship |
Seat Matrix
Category
Open
EWS
OBC
SC
ST
Total

General

48

12

32

17

9

125

PWD

3

1

2

1

–
 Bond and Stipend
| | |
| --- | --- |
| Bond & Penalty | Not Applicable |
| Stipend | ₹ 26,300/- |
Eligibility
Age: Candidates should have completed 17 years of age as on December 31 of the year of admission.
Board Eligibility
12

th

Pass in PCBE with 60% for Open and OBC candidates and

50% for SC/ST candidates

45% for PwD candidates
NEET Eligibility
Open Category – 50 Percentile

OBC/SC/ST/Reserved PwD – 40 Percentile

Open PwD – 45 Percentile
Other Courses
Course Duration: 3 Years
Available Course and Seats
| | | | | | | |
| --- | --- | --- | --- | --- | --- | --- |
| Course | Total |   UR | OBC | SC | ST | EWS |
| Anatomy | 2 | 1 | 1 | 0 | 0 | 0 |
| Biochemistry | 2 | 1 | 0 | 1 | 0 | 0 |
| Community Medicine | 2 | 0 | 0 | 1 | 0 | 1 |
| Dermatology | 2 | 1 | 1 | 0 | 0 | 0 |
| Forensic Medicine & Toxicology | 2 | 1 | 0 | 0 | 1 | 0 |
| General Medicine | 2 | 1 | 1 | 0 | 0 | 0 |
| General Surgery | 2 | 1 | 1 | 0 | 0 | 0 |
| Microbiology | 2 | 1 | 1 | 0 | 0 | 0 |
| Obstetrics & Gynecology | 2 | 1 | 1 | 0 | 0 | 0 |
| Ophthalmology | 2 | 0 | 0 | 1 | 0 | 1 |
| Otorhinolaryngology | 2 | 1 | 0 | 1 | 0 | 0 |
| Orthopedics | 2 | 1 | 0 | 1 | 0 | 0 |
| Pediatrics | 2 | 1 | 0 | 0 | 1 | 0 |
| Pathology | 2 | 0 | 1 | 0 | 0 | 1 |
| Pharmacology | 2 | 1 | 1 | 0 | 0 | 0 |
| Physiology | 2 | 1 | 1 | 0 | 0 | 0 |
| Total | 32 | 13 | 9 | 5 | 2 | 3 |
B.Sc. Nursing (Hons) [For Female Candidates Only]
Course Duration: 4 years
Seats
Category
Open
EWS
OBC
SC
ST
Total

General

15

4

11

5

3

40

PWD

1

–

–

1

–
Eligibility
Has attained age of 17 as on 31st December of the year of Admission
Has passed 12th from a recognized University/Board of any Indian State with English, Physics, Chemistry and Biology and minimum aggregate marks of-
55% for Open/OBC/EWS in PCB
50% for SC/ST in PCB
B.Sc. Lab Technology   
Course Duration: 3 years + 1 year internship
Seats
| | | | | | | |
| --- | --- | --- | --- | --- | --- | --- |
| Category | Open | EWS | OBC | SC | ST | Total |
| General | 4 | 1 | 2 | 2 | 1 | 10 |
Eligibility
Has attained age of 17 as on 31st December of the year of Admission
Has passed 12th from a recognized University/Board of any Indian State with English, Physics, Chemistry and Biology and minimum aggregate marks of-
50% for Open/OBC/EWS in PCB
45% for SC/ST in PCB
B.Sc. Emergency Medicine Technician
Course Duration: 3 years + 1 year internship
Seats
| | | | | | | |
| --- | --- | --- | --- | --- | --- | --- |
| Category | Open | EWS | OBC | SC | ST | Total |
| General | 4 | 1 | 2 | 2 | 1 | 10 |
Eligibility
Has attained age of 17 as on 31st December of the year of Admission
Has passed 12th from a recognized University/Board of any Indian State with English, Physics, Chemistry and Biology and minimum aggregate marks of-
50% for Open/OBC/EWS in PCB
45% for SC/ST in PCB
Fee Structure
College Fees
| | |
| --- | --- |
| Particulars | Amount in ₹ (per annum) |
| Registration Fee | 25 |
| Caution Fee | 100 |
| Tuition Fee | 1,350 |
| Laboratory Fee | 90 |
| Student Union Fee | 93 |
| Total | 1,628/- |
DD Details – 
Amount – ₹ 5,856/-
Name – "The Director AIIMS Nagpur" payable at Nagpur
Hostel Fees
| | |
| --- | --- |
| Particulars | Amount in ₹ (per annum) |
| Hostel Rent | 990 |
| Mess Charges | 2,970 (per month) |
| Gymkhana Fee | 220 |
| Pot Fund | 1,320 |
| Electricity Charges | 198 |
| Mess Security (Refundable) | 500 |
| Hostel Security (Refundable) | 1,000 |
| Total | 4,228/- (not including Mess) |
B.Sc. Nursing (Hons)
College Fees
| | |
| --- | --- |
| Particulars | Amount in ₹ (per annum) |
| Registration Fee | 25 |
| Caution Fee | 100 |
| Tuition Fee | 600 |
| Total | 725/- |
Hostel Fees
| | |
| --- | --- |
| Particulars | Amount in ₹ (per annum) |
| Hostel Rent | 480 |
| Mess Charges | 700 (per month) |
| Pot Fund | 960 |
| Hostel Security (Refundable) | 1,000 |
| Total | 2,440/- (not including Mess) |
B.Sc. Lab Technology and B.Sc. Emergency Medicine Technician
College Fees
| | |
| --- | --- |
| Particulars | Amount in ₹ (per annum) |
| Registration Fee | 25 |
| Caution Fee | 100 |
| Tuition Fee | 600 |
| Total | 725/- |
Hostel Fees
| | |
| --- | --- |
| Particulars | Amount in ₹ (per annum) |
| Hostel Rent | 480 |
| Mess Charges | 700 (per month) |
| Pot Fund | 960 |
| Hostel Security (Refundable) | 1,000 |
| Total | 2,440/- (not including Mess) |
Admissions Process
MBBS
Admission to AIIMS is done on the basis of All India Quota through MCC
Visit www.mcc.nic.in website for Admission
To know more about All India Quota, Click Here
B.Sc. Nursing, B.Sc. Lab. Technology, B.Sc. Emergency Medicine Technician
Required Documents
Originals & One Self-Attested Xerox
Allotment Letter issued by MCC
Admit Card of Exam issued by NTA
Score Card issued by NTA
Date of Birth Certificate
Class 10th Certificate
Class 12th Certificate
Class 12th Marksheet
Eight Passport size photograph same as application form
Proof of Identity (Aadhar/PAN/Driving License/Passport)
Migration Certificate from last University/Board
SC/ST Caste Certificate (if Applicable)
OBC/EWS Certificate (if Applicable)
Non-Creamy Layer Certificate (for OBC candidates, if Applicable)
Disability Certificate (For PwD candidates)
Download Admission Process & Document Checklist Pdf
Download
Cutoffs
| | | | | | |
| --- | --- | --- | --- | --- | --- |
| Category | Score | All India Rank | Category | Score | All India Rank |
| Open | 602 | 18186 | Open Pwd | 18186 | 18186 |
| OBC | 655 | 3394 | OBC PWD | 3394 | 3394 |
| EWS | 659 | 2811 | EWS PWD | 2811 | 2811 |
| SC | 593 | 21841 | SC PWD | 21841 | 21841 |
| ST | 551 | 45713 | ST PWD | 45713 | 45713 |
| | | | | | |
| --- | --- | --- | --- | --- | --- |
| Category | Score | All India Rank | Category | Score | All India Rank |
| Open | 602 | 18186 | Open Pwd | 18186 | 18186 |
| OBC | 655 | 3394 | OBC PWD | 3394 | 3394 |
| EWS | 659 | 2811 | EWS PWD | 2811 | 2811 |
| SC | 593 | 21841 | SC PWD | 21841 | 21841 |
| ST | 551 | 45713 | ST PWD | 45713 | 45713 |
Fully operational OPD block
Fully equipped Lecture halls
Practical labs of pre-clinical departments
24 X 7 Library (both central and e-library)
Museums including one-stop comprehensive learning "state of art" museum by Department of Forensic Medicine
Hostel accommodation and security
Sports area (both indoor and outdoor)
Residential quarters for staff